Upper And Lower Eyelid Surgery

What Is Blepharoplasty?
Dr. Wise has performed thousands of successful eyelid surgeries in New Jersey, giving his patients a more youthful and energized appearance*.
Blepharoplasty, also called eyelid surgery or eyelid lift, is a procedure performed on the upper and/or lower eyelids to provide a more alert and rejuvenated appearance. Many of Dr. Wise's patients seek this procedure to correct puffy bags and loose skin under the eyes, sagging skin on the upper eyelid, and fine lines and wrinkles around the eyes.
Procedure Snapshot
Blepharoplasty with Dr. Wise can help you look refreshed, pleasantly and naturally awake, and more youthful. Blepharoplasty removes excess skin to open the eyes or smooths puffy bags and circles under the eyes.
Quick Facts
BOTOX or dermal fillers can help rejuvenate and refresh the area around the eyes.
During lower eyelid surgery, fat grafting can be used to smooth sagging skin under the eyes or diminish under-eye circles.
Upper eyelid surgery focuses on reducing excess skin that hangs over the eyes, causing a hooded appearance.
Blepharoplasty is a very popular procedure. According to The American Society for Plastic Surgeons, over 325,000 Americans had eyelid surgery in 2020.
Before &

After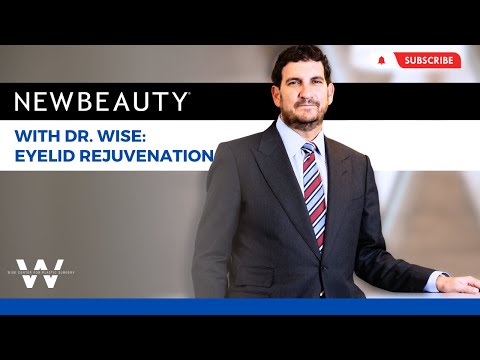 NewBeauty Talks With Dr. Jeffery Wise About Eyelid Rejuvenation
Testimonials
Very professional and friendly, well organized from consultation to post-op check-in. Dr. Wise gave honest and straightforward recommendations to improve my appearance. He makes you feel very confident and cared for. The recovery from rhinoplasty and eye lift was remarkably smooth and comfortable. Staff so friendly and encouraging.
Anonymous
I love my results. I had a brow lift and upper blepharoplasty. Dr. Wise and his office staff are just the sweetest. They will be seeing a lot of me :).. ssshh i been back 3 times already. They also follow proper Covid precautions.
Anonymous
How does Blepharoplasty Help?
Removes Wrinkles
Tightening the skin of the upper and/or lower eyelids can automatically improve or reduce the fine lines and wrinkles around the eyes commonly known as "crow's feet."*
Brightens Tired Eyes
Puffy bags under the eyes and excess skin on the upper eyelids can make one look constantly tired or sad. Blepharoplasty can help patients appear more alert and express their true emotions.
Expands View
Sagging upper eyelid skin can make it difficult to see. The upper eyelid lift removes this excess skin to broaden the scope of patients' vision.
How does a Blepharoplasty Work?
Consultation With Dr. Wise
Dr. Wise will listen to your concerns and goals for your upper and/or lower eyelid surgery.
He will examine you and make personalized recommendations to help rejuvenate the appearance of your eyes. He may recommend other procedures to complement the eyelid surgery so you can achieve your desired goals.
Recovery
Dr. Wise's patients typically report little post operative discomfort. However, medication may be prescribed by Dr. Wise if needed.
Generally, patients are back to themselves in less than one week, since this procedure usually produces a minimal amount of bruising and swelling.*
Final results can be seen in as little as a few weeks to one month once all of the swelling subsides.*
Dr. Wise will review any questions or concerns you may have regarding the surgical process to help you make an informed decision about having the procedure.
Dr. Wise will review with you many before and after photos of his blepharoplasty patients.
Procedure
Sedation anesthesia is used to keep patients pain-free.
Incisions and scars are well hidden within the eyelid crease and/or lash line.
In some cases, Dr. Wise can make lower lid incisions through the conjunctiva, which results in no visible scars.
Some patients opt to undergo other procedures at the same time, which rarely lengthens recovery time and can allow the patient to accomplish many goals with one surgery.
How Can I Make My Eyes Look Younger Without Surgery?
While blepharoplasty is the most effective procedure for rejuvenating the eyes, there is a range of non-surgical treatments that can make your eyes look younger without requiring incisions.
Neurotoxins (wrinkle relaxers): These injectable treatments, such as BOTOX and Dysport, can help elevate the outer area of the eyebrows and soften wrinkles between the eyebrows.
Dermal fillers: Injectables can be used to fill the depression in the tear trough area, or the hollows under the eyes. Fillers help achieve a smoother, more youthful transition from the lower eyelid to the cheek.
Chemical peels, microneedling, or laser treatments: Crepey skin and discoloration of the lower eyelid skin can be addressed with a chemical peel treatment, microneedling, or laser resurfacing treatments.
Blepharoplasty FAQs: Answers to Common Questions
How much does blepharoplasty cost?
Pricing for blepharoplasty varies, depending on the complexity of the case, and whether the patient needs an upper blepharoplasty, a lower blepharoplasty, or both. Exact costs can be obtained in a personal consultation with Dr. Wise.
Is blepharoplasty covered by health insurance?
Blepharoplasty procedures are considered cosmetic, and as such, are not typically covered by health insurance.
How long does blepharoplasty take?
Blepharoplasty eyelid surgery typically takes two hours or less, but may take longer in certain fairly rare instances.
Is blepharoplasty an outpatient procedure?
Yes, eyelid surgery is most often done as an outpatient procedure under local anesthesia. A designated friend or family member should be on call to drive you home.
Are there any side-effects from blepharoplasty?
Most patients will experience mild redness, swelling, and some bruising at the incision sites, and may be sensitive to harsh light. Cool compresses and keeping the head elevated helps reduce these. Some soreness should be expected for a few days.
New Jersey Office | 973-658-4019 | 1680 Route 23, Suite 120, Wayne, NJ 07470
*The Content/Images On This Website Are Not A Guarantee Of Individual Results. Individual Results May Vary. The Information Provided On This Site Is For General Informational Purposes Only, And Does Not Replace The Need For A Formal Consultation.